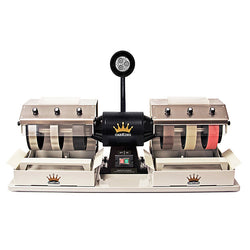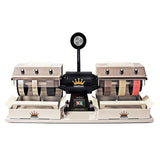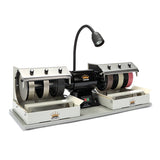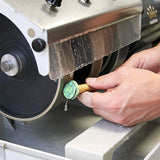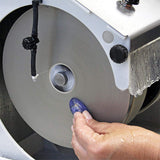 CabKing 8"
SKU: CABKING-8V1
The CabKing 8″ cabbing machine features 8″ diameter diamond wheels that complete the entire rough-to-polish process. The main difference between the CabKing 8″ cabbing machine and the
CabKing 6″ cabbing machine
is the ability to work on larger stones due to wider wheels and the generous spacing between them. 
Because of its rugged, professional-grade build, this cabbing unit is perfect for professionals, studios, clubs and serious hobbyists. 
With features such as our simplified drainage set-up, 3/4 hp direct drive motor and clean, adjustable water system, it's no wonder CabKings are favored over other cabbing units.
This machine comes shipped with everything you need to start cabbing. View our video tutorials to see the CabKing in action (please note that the model shown in the tutorial videos is the CabKing 6″. New CabKing 8″ tutorial videos are coming soon).
Electricity supply
Make sure you choose the right power supply for your machine. The 220-volt models are available only for overseas customers that require 220V–240V power supply. All 220-volt models are manufactured with a CE rated, Type F plug (see below). Note: Plug style for water pump may vary, an electrical adapter may be required.
International customers
We are not responsible for any import duties or customs charges. Any such fees incurred to receive your package are not covered by us. Please consult your country's customs policy for more information.
CabKing dimensions and weight
42" L X 16" W X 14" H, 160 lbs
Get more out of your CabKing
Want to saw, grind and polish with just one machine? Turn your CabKing 8″ cabbing machine into an all-in-one unit and eliminate purchasing a separate trim saw machine with our easy to use CabKing 8″ trim saw attachment.
Extended warranty program
You're about to make a smart investment by purchasing a CabKing machine so protect it with our extended warranty program. Our extended warranties extend the one-year manufacturer warranty that is included with the CabKing 8″. Choose from either a one- or two-year warranty extension. We recommend purchasing this extended warranty at the same time you purchase your CabKing machine.
Excellent equipment, better service!
Was gifted a v8 and am very impressed. Even at the mention of a mild flaw (drainage. Flawless other than that and light system) these guys grab a bat and knock it outta field.
Way to build a reputation guys.
Can't wait to get my saw next....when I'm off of grounding for buying too many rocks to grind and polish, lol.
So in love
I absolutely love my new CabKing8!! It is an amazing machine! When I received the baseboard was damaged in shipping and I called customer service, spoke with Joe who sent me out another baseboard very quickly. The second one came in perfect condition! Joe is such an asset to the business, it is not often anymore you find a great product that also has great customer service!
I can't wait to see what all I am able to create with this beautiful machine! Thank you for creating such an amazing product!!
Amy
Great machine and wonderful customer service. 8" CabKing does the job on all of our materials. Love the speed with Fire Obsidian. Super quiet.