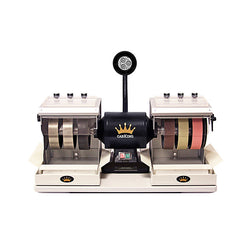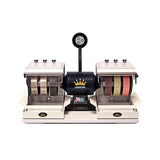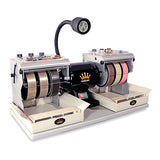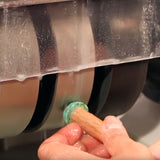 CabKing 6"
SKU: CABKING-6V3
The CabKing 6″ cabbing machine features 6″ diameter diamond wheels that complete the entire rough-to-polish process. 
Whether you're a beginner, lapidary hobbyist or jewelry making pro, the CabKing 6″ cabbing machine is easy to use for every skill level. 
With features such as our simplified drainage set-up, 1/4 hp direct drive motor and clean, adjustable water system, it's no wonder CabKings are favored over other cabbing units.
This machine comes shipped with everything you need to start cabbing. View our video tutorials to see the CabKing 6″ cabbing machine in action.
Electricity supply
Make sure you choose the right power supply for your machine. The 220 volt models are available only for overseas customers that require 220V – 240V power supply. All 220 volt models are manufactured with a CE rated, Type F plug (see below). Note: Plug style for water pump may vary, an electrical adapter may be required.
International customers
We are not responsible for any import duties or customs charges. Any such fees incurred to receive your package are not covered by us. Please consult your country's customs policy for more information.

CabKing dimensions and weight
27" L X 13.5" W X 12" H, 62 lbs
Get more out of your CabKing
Want to saw, grind and polish with just one machine? Turn your CabKing 6″ cabbing machine into an all-in-one unit and eliminate purchasing a separate trim saw machine with our easy to use CabKing 6″ trim saw attachment.
Extended warranty program
You're about to make a smart investment by purchasing a CabKing machine so protect it with our extended warranty program. Our extended warranties extend the one-year manufacturer warranty that is included with the CabKing 6″. Choose from either a one- or two-year warranty extension. We recommend purchasing this extended warranty at the same time you purchase your CabKing machine.
Absolutely love my cabking 6
This machine has totally amazed me, from cubuchion making to cutting specimens in half to reveal the beauty within, I love it ,its totally changed the way I do my stones
CabKing 6
I love my new cabKing....
My only gripe is that the light is way to dim... Needs to be a lot brighter..
Cabking the king of cabs
Absolutely love this machine, only issue I had was with the plastic drain hose, did not fit properly and broke at the connection, will probably replace with real hose, got the saw attachment also and easily installed and smooth running, liked the bore protectors on the diamond wheels , good fit
Great machine
Ordered online late on a Sunday night, my cabking arrived on Friday. That's only 5 working days! Packed very well, no damage in shipment at all. All parts were in the box, nothing missing. Easy to understand and execute the set up instructions. The unit started up flawlessly and runs very quiet (compared to some old grinders/polishers at a club lapidary shop where I learned). I've polished some material and my cabking works very well on a wide range: turquoise, lapis lazuli, jaspagate, obsidian, agate, and rutilated quartz. I am very happy having picked cabking over the alternatives.