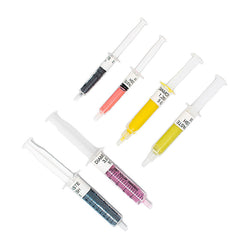 Diamond paste
SKU: DPS-2-2
Our diamond paste is a high quality paste that puts a beautiful polish on your gemstones. Use it to charge your lapidary tools, polishing pads and buffing pads. Diamond paste comes packaged in a convenient, disposable syringe. We offer a large variety of grits available in 2-gram, 5-gram and 10-gram syringes.
Our diamond paste puts a fast, beautiful polish on your gemstones. The paste is made with a strong concentrate of high quality diamonds suspended in an oil-based carrier. Each grit is color coded for easy identification and conveniently packaged in disposable syringes. Choose from 220#, 325#, 600#, 1,200#, 3,000#, 8,000#, 14,000#, 50,000# and 100,000# grits. 2-gram, 5-gram and 10-gram syringes available. We recommend using this diamond paste with the canvas polishing pad that fits onto the right shaft of the CabKing 6" cabbing machine and CabKing 8" cabbing machine.
Polish compound
After frustration using cerium oxide and other polishing compounds....my go to...cab king customer service/advice....I bought their suggestion and it's the best I've ever used....everything comes out glassy smooth. The 14k followed by the 50k.
Diamond Paste by DaveD.
Similar to their machines, CabKing's 14,000 mesh Diamond paste is excellent. It's bright Pink color makes it easy to see and know when to recharge your polishing disk. It Quickly enables your Gemstones to have A Brilliant Polish that sparkles in the dimmest light. And takes very little time to polish an entire Gemstone. It is easy to order on the Website and shipping is fairly fast, even internationally. The only thing CabKing's 14,000 mesh diamond paste will have you worrying about, is how to Thank CabKing's awesome people for making such an excellent product!
Works well
Almost takes it to a finish polish good value compared to others