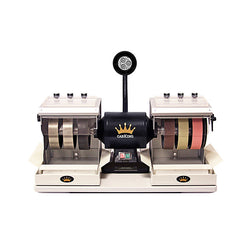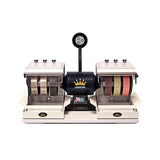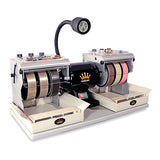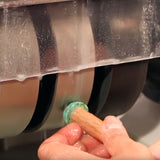 CabKing 6"
SKU: CABKING-6V3
The CabKing 6″ cabbing machine features 6″ diameter diamond wheels that complete the entire rough-to-polish process. 
Whether you're a beginner, lapidary hobbyist or jewelry making pro, the CabKing 6″ cabbing machine is easy to use for every skill level. 
With features such as our simplified drainage set-up, 1/4 hp direct drive motor and clean, adjustable water system, it's no wonder CabKings are favored over other cabbing units.
This machine comes shipped with everything you need to start cabbing. View our video tutorials to see the CabKing 6″ cabbing machine in action.
Electricity supply
Make sure you choose the right power supply for your machine. The 220 volt models are available only for overseas customers that require 220V – 240V power supply. All 220 volt models are manufactured with a CE rated, Type F plug (see below). Note: Plug style for water pump may vary, an electrical adapter may be required.
International customers
We are not responsible for any import duties or customs charges. Any such fees incurred to receive your package are not covered by us. Please consult your country's customs policy for more information.

CabKing dimensions and weight
27" L X 13.5" W X 12" H, 62 lbs
Get more out of your CabKing
Want to saw, grind and polish with just one machine? Turn your CabKing 6″ cabbing machine into an all-in-one unit and eliminate purchasing a separate trim saw machine with our easy to use CabKing 6″ trim saw attachment.
Extended warranty program
You're about to make a smart investment by purchasing a CabKing machine so protect it with our extended warranty program. Our extended warranties extend the one-year manufacturer warranty that is included with the CabKing 6″. Choose from either a one- or two-year warranty extension. We recommend purchasing this extended warranty at the same time you purchase your CabKing machine.
Good product, however 280 grit wheel wears out fast.
I like almost everything about the machine -- it's decently quiet, it shipped quick, was easy to assemble, etc.
My only complaint is that the 280 grit wheel wears out ridiculously fast. After a few weeks of use, it already needs replaced! The 600 grit wheel will follow soon...
If you plan on buying it, I recommend getting a replacement wheel for the 280 grit (or a better quality wheel that lasts longer). It'll save you a little time!
Hi Nathan - Thank you for your feedback. While the 280# resin wheel wears faster than any other wheel on the CabKing due to it being the first resin wheel in use coming off of the electroplated wheels, it should not be wearing out ridiculously fast. We encourage you to reach out to us so that we can better assist you. Our email address is info@cabking.com and our phone number is (630) 366-6129.
No deal
These have been $1399 for this whole year. Why is the black friday saying 25% off and it was $1499 and now $1399? Don't be fooled and cab king should be ashamed of this!!
Hi Ryan - We are so sorry to hear all the frustration our sale(s) have caused you. Our CabKing machines have been on sale for a while now. This $100 off sale is independent of our Black Friday Sale. Our Black Friday Sale excludes machines, saw attachments and gift cards, which is communicated everywhere that the sale is featured. We are not by any means trying to fool anyone and we take great pride in our sales to be able to help people out financially, just in time for the holiday season.
Amazing item I've made about 5-6 cabs so far and I love it!
Amazing machine, amazing service
Love the machine, it cuts quick and polishes well. I can do a lot more than what I could on my flat lap due to the curvature of the wheels. Shipping came in super fast and it was easy to set up. I would highly recommend.
Beyond amazing!
Can not say enough good things about CABKING. It is well built, cuts beautifully.Not very noisy at all.
And customer service is second to none! I had a couple of requests and they accommodated them gladly.
It's the kind of service you rarely see these days. Couldn't be happier in any way.