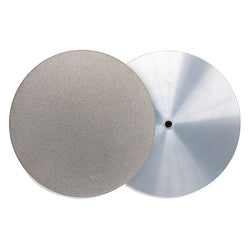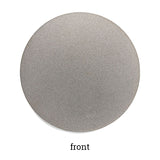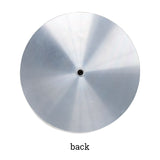 Full face diamond laps
SKU: FL6-060-FF
CabKing full face diamond laps are used for both rough and fine grinding on stones and glass. They are also useful for putting flats on larger cabs. These electroplated, no-hole, full face diamond laps are available in a large variety of different grits to choose from.
Our full face diamond laps are manufactured using the highest quality diamonds to provide you a longer grinding life and clean, faster cutting. They are nickel electroplated using commercial grade diamonds uniformly onto a 1mm thick steel plate. That steel plate is then bonded to a 1/4" thick aluminum base with a 1/4"-20 thread on the backside. Since these full face laps do not arbor holes in the middle of them like most laps do, this allows you more surface area to grind larger pieces.
We offer a variety of different grits, ranging from 60# to 3,000#. They screw into the right shaft of the CabKing 6" cabbing machine and the CabKing 8" cabbing machine. You can also use them on other cabbing machine brands that accept a 1/4″-20 thread.
Laps are 6″ diameter with a 1/4″-20 thread on the backside.
Prop 65 warning for California residents
Flat Laps. We're MORE Than EXTREMELY NPLEASED WITH OUR PURCHASED.
I Should Have Purchased These Flat Laps When We Had Purchased Our 6" CABKING CABBING MACHINE, Especially When I Used The 80grit Flat Lap For The First Time. I HAVE NAMED IT MY LITTLE BEAST=IT JUST REMOVES MATERIAL AND GIVES US A FLAT/LEVEL SURFACE. I had made a BOBOOO, I ordered a 360grit Flat Lap which came with the Cabber-hehehe. So, I not Only Ordered The Flat Lap I WANTED TO BEGIN WITH FOR COMPLETION /TO COMPLETE THE FLAT LAP GRIT ORDER FOR GRINDING MATERIALS. NOW, SINCE I LOVED HOW THE 80grit REMOVED MATERIALS-REGARDLES OF HARDNESS I DECIDED TO ORDER A 60grit, FLAT LAP WHICH NOW COMPLETES OUR FLAT LAP PROGRESSION OF GRITS=60grit up too 3000grit. I am EXCITED To Receive and USE THE 60GRIT. REASON BEING, DUE TO THE PERFORMANCE OF THE 80GRIT, I CAN IMAGINE JUST WHAT THE 60 GRIT WILL DO & THEN I WILL NAME IT OUR LITTLE HULK / BRUTE / ANNIALATOR / DEVASTATOR / ? /. I GIVE THESE FLAT LAPS **********STARS!!! *In Place Of A Star. You Know That Saying-WOULD HAVE, SHOULD HAVE, COULD HAVE= NO LONGER<<
Never Disappointed
Still being new to lapidary work but I find everything I have purchased from CabKing to be far superior to other items I have purchased. Very high quality. Never disappointed.
Supplies for Lap
Great products, fast delivery. I purchased from one of their sales/promo days, so I got a great deal for my money. Customer Service is always ready to help. I will definitely buy again.