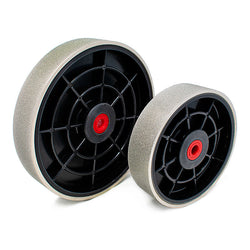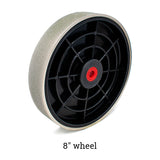 Diamond grinding wheels
SKU: GWP6-060
CabKing diamond grinding wheels are used for rough grinding and pre-forming stone and glass material. They provide longer grinding life and faster cutting. Wheels come in 6″ and 8″ diameter sizes with a large variety of different grits to choose from.
Our diamond grinding wheels are nickel electroplated using commercial grade diamonds uniformly throughout the entire width of the wheel, making them more durable and aggressive than silicon carbide wheels while giving you excellent quality and results. All wheels are made with a plastic center core, which puts less stress on machine bearings when compared to wheels with steel hubs because they are lighter.
We offer a variety of different grits, ranging from 60 to 600. The 6″ grinding wheels fit the CabKing 6″ cabbing machine and the 8″ grinding wheels fit the CabKing 8″ cabbing machine. You can also use them on other cabbing machine brands. All wheels have 1" arbor holes and come with bushings to accommodate 1/2", 5/8" and 3/4" arbors.
Wheels are 1-1/2" wide
Prop 65 warning for California residents
Diamond Grinding in the family
My brother had an 8" Cab King that he loved. He passed away one year ago today. I am now using that same Cab King. Many Cabochons later this hobby remains in our family. The 8" Cab King can be used by amateurs and is favored by experienced users!
Good quality
It works great for my business. Now I need to order the 8 inch grind wheel equipment to enhance my work.
Bought 3 wheels
Got them on sale and am very satisfied. All 3 run smooth and needed no break in. Since I work with soft stones like turquoise it's wonderful.
FAST AND EFFICIENT
I love my new 100 and 220grit 6" diamond grinding wheels.
The grit is consistent, long lasting and the initial break in period doesn't chip away the faces of my work.
100% would recommend to both the hobbiest and production level carver.