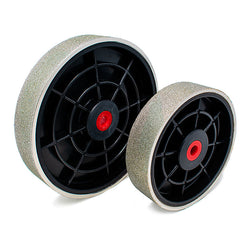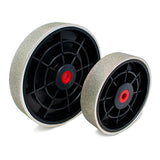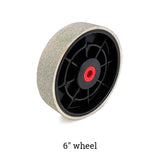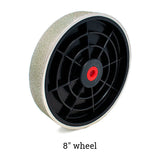 Diamond textured grinding wheels
SKU: GWTP6-060
CabKing diamond textured grinding wheels are used for rough grinding and pre-forming stone and glass material. They are electroplated wheels manufactured with a cross-hatch pattern that prevents chipping, keeps the wheel cooler and aids in debris removal for faster grinding. Wheels come in 6″ and 8″ diameter sizes with a large variety of different grits to choose from.
Our diamond textured grinding wheels are manufactured using the highest quality diamonds to provide you a longer grinding life and clean, faster cutting. They are nickel electroplated using commercial grade diamonds uniformly throughout the entire width of the wheel, making them more durable and aggressive than silicon carbide wheels while giving you excellent quality and results. The textured surface has a cross-hatch pattern that prevents chipping of your material, keeps the wheel cooler and aids in debris removal. All wheels are made with a plastic center core, which puts less stress on machine bearings when compared to wheels with steel hubs because they are lighter.
We offer a variety of different grits, ranging from 60 to 600. The 6″ grinding wheels fit the CabKing 6″ cabbing machine and the 8″ grinding wheels fit the CabKing 8″ cabbing machine. You can also use them on other cabbing machine brands. All wheels have 1" arbor holes and come with bushings to accommodate 1/2", 5/8" and 3/4" arbors.
Wheels are 1-1/2" wide
Prop 65 warning for California residents
Excellent
My husband and I are running a business and need reliable equipment. I will be purchasing from them often. Excellent products
Diamond Wheels
Works well and lasts along time
220 Grit Diamond Textured Wheel
Couldn't be happier with this wheel that replaced the factory 220# electroplated diamond wheel. It takes a bit to break in, and it's important to make sure the entire surface of the wheel is "evened out", but what a difference! I don't even think I need the 80# grit wheel anymore, as I use it much less now. Excellent product.
Excellent! Upgrade today don't delay!
For me the REZ wheels are a game changer. I do a lot of flat top cabs and they used to be such a pain. With the way the REZ wheels are constructed it's so much easier. I have found for me anyways very light pressure is needed in most instances to remove scratches and polish. When I started cabbing I used a lot more pressure and it would cause my wheels to wear faster and sometimes start to fray on the edges and eventually tear apart. I would recommend switching to the REZ wheels over the standard 100%.
Diamond textured grinding wheels
I haven't installed them yet so I can't provide an evaluation of their performance.