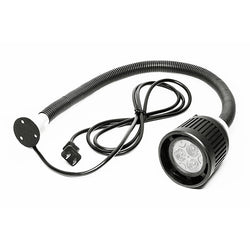 CabKing 6" LED lamp
SKU: CK6-LAMP-LED
CabKing LED lamps are available for the CabKing 6″ cabbing machine. This lamp is very popular for CabKing owners with older machines that were manufactured with a halogen light bulb. Get longer light life and prevent heat build-up with the LED light bulb installed in this flexible, gooseneck lamp.
The CabKing 6" LED lamp is used to provide light and illuminate your work space while using the CabKing 6" cabbing machine. It is a flexible, gooseneck lamp that is installed with a LED light bulb. For CabKing owners that want longer light life and to prevent heat build-up produced by the halogen light bulb, this lamp is a great solution for you. Installation is easy, simply secure the lamp onto the baseboard using the included three screws and drill template. If your original lamp is connected to the CabKing motor, simply adjust it so it is out of the way of your work space, behind the motor.
Specifications of lamp
Neck length: 2 ft long
Cord length: 6 ft long
Specifications of LED light bulb
Voltage range: 90V – 240V
Bulb style: G5.3 bi-pin base
Important note: This 6" LED lamp is compatible with the CabKing 6" cabbing machine ONLY.
CabKing 6" LED lamp
Recently replaced the LED light on my CabKing. Delivery speed was reasonable, installation was very simple, quality looks quite good, and the new light is working very well!