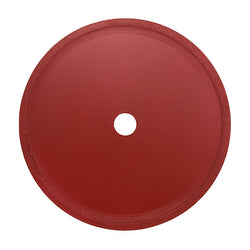 Sintered diamond saw blade
SKU: CK-SS08
This CabKing sintered diamond saw blade is a superior blade for cutting material such as quartz, topaz, glass and agates. This blade uses sintered technology, providing longer longevity when compared to other non-sintered saw blades. They are included with the CabKing trim saw attachment 6″ and the CabKing trim saw attachment 8″.
Premium diamond grit (325#/400#) is secured into a metal bond that extends the full depth of the rim so that diamonds are continuously exposed as the edge of the blade wears away with use. Using this sintered technology makes them last longer and gives you clean, thin cuts. This blade can be sharpened using the sintered diamond saw blade dressing stick.
To view this saw blade in use on the CabKing trim saw attachment, check out our tutorial video "Installing and cutting on the saw attachment" on YouTube.
Saw blades are 8" diameter x .035" core x .042" kerf with a 1" arbor hole.
Had an issue with the blade when I got it. Emailed customer service. With in 15 minutes I received an email back stating they where sending out a replacement blade. By far the best response and customer service I've received in my life. What a great company that actually cares about who keeps them in business.
Not just good blades, good customer service.
These are the best blades I'm telling you. But it's not just the blades that keep bringing me back to these fellas. It's the customer service. I need you to know the difference between a centered blade and other diamond blades and one of the customer service reps took time from there. Busy day to explain to me the difference and why. I love it, usually people will explain the difference but not the why. These guys explain the why. You guys are awesome! And so are your blades!
This blade is awesome!
Thin but firm and cuts so well. Make sure you use dressing stick often to sharpen diamonds on edge of blade.
Sintered diamond saw blade