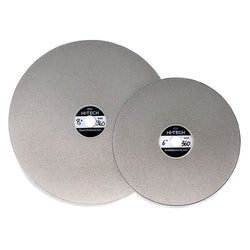 CabKing diamond laps are used for both rough and fine grinding on stones and glass. They are also useful for putting flats on larger cabs. These electroplated diamond discs come pre-attached to an acrylic backing plate and are available in 6″ and 8″ diameter sizes with a large variety of different grits to choose from.
Our diamond laps are manufactured using the highest quality diamonds to provide you a longer grinding life and clean, faster cutting. They are nickel electroplated using commercial grade diamonds uniformly onto a 1mm thick steel plate. That steel plate is then bonded to a precision ground, 3/8" thick acrylic backing plate. These diamond laps have a long life span because they are made of steel, resulting in the highest quality lap available on the market.
We offer a variety of different grits, ranging from 60 to 3,000. Use these lapidary diamond laps on the left shaft lap adapter on both the CabKing 6" cabbing machine and CabKing 8" cabbing machine to grind flats on stones and glass or to put a flat back on larger cabochon pieces. You can also use them on other cabbing units and lap machines that accept a 1/2" arbor.
All laps have 1/2" arbor holes and come pre-attached to an acrylic backing plate. No additional assembly is required. 
Prop 65 warning for California residents
Another amazing product
Cabking has the best lap equipment. My local rock shop closed last week and im so happy i got my own tools from Cabking!!
Wheel purchase everything
Granted I ordered on a friday or Saturday, shipping seemed slow, it was like 6 days to receive shipment. Shipping kinda sucked. But everything else was great.
Hi Cara - We are sorry to hear that USPS took so long to deliver your order. It looks like you ordered on Friday night and chose USPS as your shipping carrier. Since we are not open on weekends, and that Monday was President's Day, your order was shipped the next available day it could for USPS pickup. USPS service is not available on federal holidays. For your next order, we suggest looking at UPS if you are ordering near federal holidays.
Better than expected
I love my Cab King. I did buy off it off Facebook, but it was practically brand new. And the Customer Service is the best. They have a good response time and will help you with any question that you may have, and offer advice when asked. I love the machine and the company ) My Flat Diamond Lap is amazing and I definitely recommend this machine and its accessories.