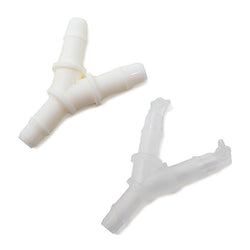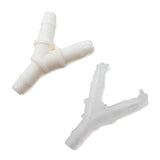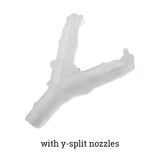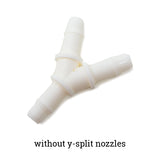 CabKing y-split
SKU: CK-Y-ASSEMBLY
Replacement CabKing y-split water parts are available for the CabKing cabbing machines.
The CabKing y-split is an essential part of our clean water circulatory system. Six y-splits are installed under the hoods on the CabKing 6" cabbing machine and the CabKing 8" cabbing machine. Inserted in the y-splits, are two y-split nozzles that control the direction of the water spray on each individual wheel.
IMPORTANT PURCHASING NOTES: The CabKing y-split is available with or without y-split nozzles. The y-split with nozzles come pre-installed with two y-split nozzles. These parts are genuine CabKing parts and designed to be used only on authentic CabKing machines. They are not compatible with other cabbing units. Color may vary.
Cabking y-spiters
Ordred 6
Cost of shipping and dutie was more than total cost of product . Also had U.S. Exchange on top of that. Product is great and delivery time was great . Overall cost was rediculas.
Rebuilding Lapidary Equipment
Super satisfied with help from CabKing while I improve my lapidary equipment.
CK 8- after 5 years of use.
The Cab King 8 is a total beast. I spent about six months researching machines before I purchased the untit. I have not been dissatisfied or disappointed with my purchase at all. Cab King is very expeditious with replacement pieces. Keep in mind the replacement pieces are from 1,000 hrs of running time and I accidentally ground down a couple of nozzle spray heads along the way. (My fault) After years of use, I have found this machine to be beyond compare.