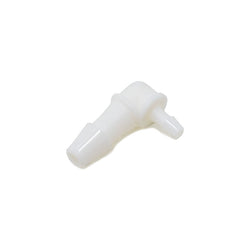 CabKing nozzle
SKU: CK-NOZZLE
The CabKing nozzles are an essential part of our clean water circulatory system. These nozzles are located in the y-splits and side spray tubes. They control the direction of the water spray on the CabKing 6" cabbing machine and the CabKing 8" cabbing machine. 
The CabKing nozzles are sold separately.
Important note: The CabKing nozzle is a genuine CabKing part and designed to be used only on authentic CabKing machines. They are not compatible with other cabbing units.
Great Service
Thank you for taking care of your customers.
Nozzle
Diameter of nozzle is not large enough to provide the retention of nozzle in tubing. I provided enough tension to retain the nozzle by forming a ring of wax behind the nozzles retaining ring for a temporary or possible long term patch
Works fine
It's just a nozzle. Not much to say except they are too expensive.
Look for different Nozzles
I am giving these just two stars. The product shipped quickly but they are sub-standard for the price of an injected molded or extruded part coming in from overseas. The price for these is outlandish. Seems to me you could find a much better part by sourcing through a surgical tubing and connector manufacturer. I know several in Taiwan if you want references. I will be converting after these are done.