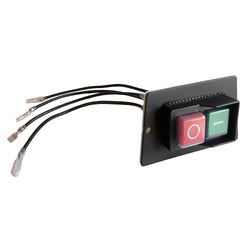 CabKing power switch
SKU: CK-SWITCH-110-UL
This CabKing power switch turns the CabKing cabbing machines on and off. Installation is fast and easy. Written instructions are included with the switch. 
Important purchasing notes: Please call us at (630) 366-6129 if you need to order a new CabKing switch. This replacement switch is the new switch for a 110V/115V CabKing.  If you have a 220V CabKing and need a new switch, please call us or email us at info@cabking.com.
I am on my third switch
My first switch lasted approximately one year. The machine would power down at random. The second switch allows just enough power to cause the motor to hum when shut down. The third switch hopefully last more than a year or two.
replacement switch
This is my second replacement of the original equipment switch. I would hope the switch would be longer lasting. All else has been great with the CabKing 8
Hi Edward - We are sorry to hear that you had to swap out the switch more times than expected. We encourage you to reach out to our customer service team at (630) 366-6129 or email us at info@cabking.com so that we can ensure the switch you replaced your machine with is the correct one, as we do have a few different style switches.
Repair Part
The replacement part was expedited to me n good order and worked perfectly.
It works!
Thankful that my cab king is back in working order. However the replacement was not a simple switch out. The machine had to be taken apart to access everything and was very time consuming. It was not the same original switch, it was a different design and wires had to be spliced as well. It was the only replacement on/off switch available on the website, so didn't have any other options.
Thanks
As usual, your after sale service is very efficient.
Thank you