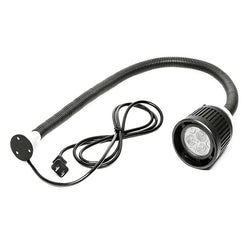 CabKing 8" LED lamp
SKU: CK8-LAMP-LED
CabKing LED lamps are available for the CabKing 8″ cabbing machine. This lamp is very popular for CabKing owners with older machines that were manufactured with a halogen light bulb. Get longer light life and prevent heat build-up with the LED light bulb installed in this flexible, gooseneck lamp.
The CabKing 8" LED lamp is used to provide light and illuminate your work space while using the CabKing 8" cabbing machine. It is a flexible, gooseneck lamp that is installed with a LED light bulb. For CabKing owners that want longer light life and to prevent heat build-up produced by the halogen light bulb, this lamp is a great solution for you. Installation is easy, simply secure the lamp onto the baseboard using the included three screws and drill template. As for your original lamp, either adjust it so it is out of the way of your work space or remove it from the baseboard.
Specifications of lamp
Neck length: 2-1/2 ft long
Cord length: 6 ft long
Specifications of LED light bulb
Voltage range: 90V – 240V
Bulb style: G5.3 bi-pin base
Important note: This 8" LED lamp is compatible with the CabKing 8" cabbing machine ONLY.
Customer Service
CabKing has the very best customer service! Always available, a real person and exemplary service! Speed and customer care are the best! Just can''t say enough about how amazing this company is! Thank You!
Replacement lamp
The lamp itself is very good, I'm not satisfied at all with the mounting base. The replacement lamp requires a screw down with wood screws onto the base plate of the cab king, Which I am finding to not be very secure. The base on the original lamp at least was bolted to a plate that could be clamped onto the back of the cab king which is a preferred method in my mind.