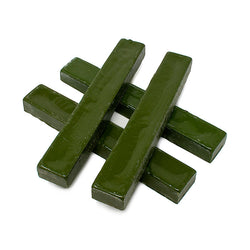 Green dop wax - 1lb
SKU: WAX-GREEN
CabKing green dop wax is used for securing stones to dop sticks to ease the cabbing process. This specially formulated wax heats quickly and provides excellent adhesion for general lapidary use.
CabKing green dop wax provides a strong adhesive bond for general lapidary use. The wax softens at around 150°F (66°C) and comes in four 1/4 lb sticks to a box. We recommend using this green dop wax with the DopStation. It also works well with other brand dop pots.
Always responsive
CabKing has never let me down!
Fast delivery great product
Dop Wax
It's the only dop wax I use, and CabKing provides great service.