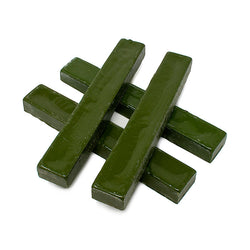 Green dop wax - 1 lb box
SKU: WAX-GREEN
CabKing green dop wax is used for securing stones to dop sticks to ease the cabbing process. This specially formulated wax heats quickly and provides excellent adhesion for general lapidary use.
CabKing green dop wax provides a strong adhesive bond for general lapidary use. The wax softens at around 150°F (66°C) and comes in four 1/4 lb sticks to a box. We recommend using this green dop wax with the DopStation. It also works well with other brand dop pots.
Bad dop wax
I won't buy this again. It seems to have a higher melting temp than what my pot wants to produce, so I had to cover the tray on my pot to get it warm enough to get to the consistency I am used to.. Seems more brittle as well. Over-all, it was a painful week trying to use it, and ended up throwing it out and bought from a local lapidary store.
Hi Todd - We are sorry to hear that our dop wax did not meet your expectations. We encourage you to reach out to us so that we can make this right for you. Our email address is info@cabking.com and our phone number is (630) 366-6129.
Always responsive
CabKing has never let me down!
Fast delivery great product