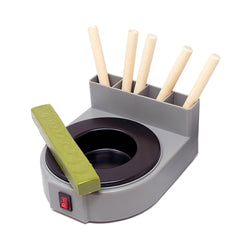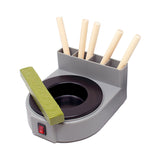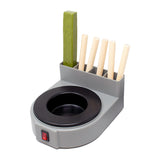 DopStation complete
SKU: 450111
The DopStation is one of the best dopping systems available on the market. It not only melts dop wax in under 15 minutes, but keeps it softened at the right temperature. Advanced features makes this dop pot a popular tool and eases the cabbing process. Comes complete with dop wax and dop sticks.
The DopStation complete comes with everything you need to start dopping your stones. The DopStation dop pot features a lighted power switch for easy on/off indication, a storage space to store dop wax and dop sticks, and a wide bezel to easily pre-heat your stones. Its non-stick surface melts dop wax fast and keeps it at the right temperature while you work.
Includes
• Green dop wax - 1/4 lb stick
• Dop sticks - 5 pcs
DopStation specifications
Voltage and plug style:  Available in 110V/115V U.S. plug only
Cord length:  6 ft
No problems here. It works like a charm. Love this product great price.
Nice station
Some said it's not hot enough. YES IT IS. Love it
It is okay. Takes along time to melt the wax and doesn't do a very good job of it. I have had a hard time getting it to stick to the stones. I have been cabbing by hand because it doesn't work that well
Hi Maureen - We are so sorry to hear that you are having trouble with the DopStation. Our email address is info@cabking.com and our phone number is (630) 366-6129. We encourage you to reach out to us so we can assist you. Thank you!
Works great
Nice device. Heats the dop wax and stones on the edge. This was less expensive from Cabking than the same unit advertised on Amazon.