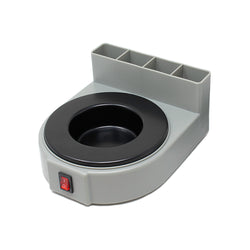 The DopStation is one of the best dopping systems available on the market. It not only melts dop wax in under 15 minutes, but keeps it softened at the right temperature. Advanced features makes this dop pot a popular tool and eases the cabbing process.
The DopStation dopping system features a lighted power switch for easy on/off indication, a storage space to store dop wax and dop sticks, and a wide bezel to easily pre-heat your stones. Its non-stick surface melts dop wax fast and keeps it at the right temperature while you work.
Specifications
Voltage and plug style: Available in 110V/115V U.S. plug only
Cord length: 6 ft
IMPORTANT PURCHASING NOTE:  This is the DopStation dop pot ONLY. Dop sticks, dop wax and other tools are NOT included. If you wish to purchase this DopStation with dop wax and dop sticks included, check out our DopStation complete.
Inland DopStation
I tried this out for the first time today and really like it. It makes doping stones fast and easy.
Dop pot and wax
Dop pot works fine. Gets the wax a little above melting point, would be nice if just a bit hotter though. I like the wide rim to place the preforms on to get them warm, helps the wax bond to the stone better.
Great Product
Best shipping and price. The top ring of the heating pod is useful to pre heat the stone. Overall very satisfied with the product.