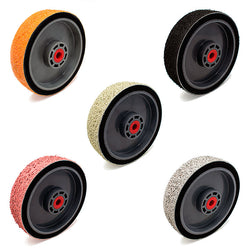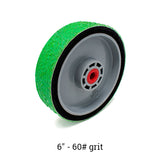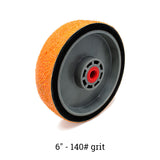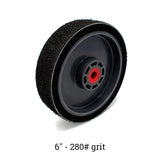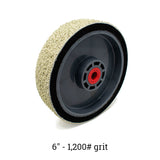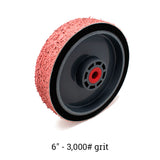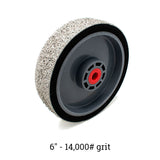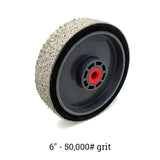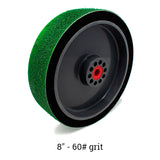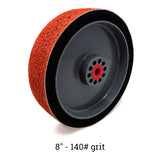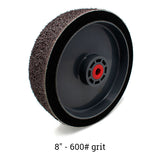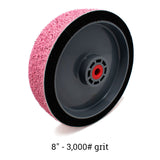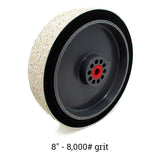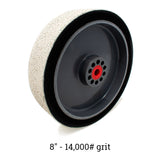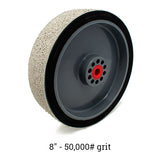 Diamond rez wheels
SKU: REZ6-060
CabKing diamond rez wheels are aggressive resin wheels used for cabbing, forming, contour grinding and pre-polishing stone, glass, synthetic material and even some metals. They are efficient wheels and well-suited for high volume commercial cabbing. These rez wheels come in 6″ and 8″ diameter sizes with a large variety of different grits to choose from.
Our diamond rez wheels are an excellent choice for high volume commercial cabbing. Using a proprietary technique, commercial grade diamonds are locked into a specially formulated resin-bonded belt that is mounted on a 1/4″ thick medium density foam backing with plastic center core. The medium density foam backing absorbs pressure and provides a cushion so that the wheel conforms to your stone.
These wheels are manufactured with an aggressive resin bond, resulting in a rough texture with sharp points. Due to their textured nature, these wheels require a break-in period prior to working on your jewelry pieces.
Wheels are available in a variety of different grits, ranging from 60 to 50,000. The 6" rez wheels fit the CabKing 6" cabbing machine and the 8" rez wheels fit the CabKing 8" cabbing machine. You can also use them on other cabbing machine brands. All wheels have 1" arbor holes and come with bushings to accommodate 1/2″, 5/8″ and 3/4″ arbors. Wheels are color-coded for easy grit identification. Actual color and hub style may vary.
6″ wheels are 1-1/2″ wide and 8″ wheels are 2″ wide
Important note: These rez wheels use an aggressive resin bond and are more durable than our standard diamond resin wheels however, they can still be used in the same sequence with our standard diamond resin wheels.
Good quality wheels, absolutely worth the price.
I have switched out all the wheels that come standard with the cabking 6 with the Diamond Rez wheels. They last longer and work better with harder materials.
280 Rez wheel
Absolutely beautiful
Great quality products
Keep rocking CabKing
Cab King Review
I've had my Cab King for a bit over a year now and it still runs great and it's been key in launching from a hobbiest to a small business.