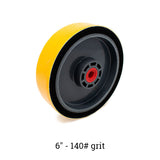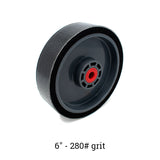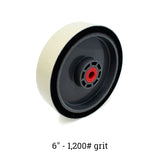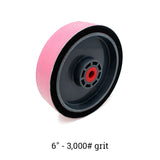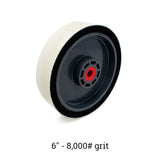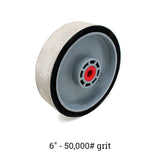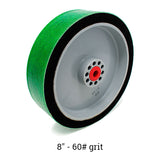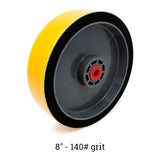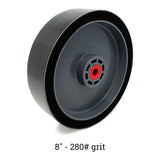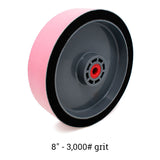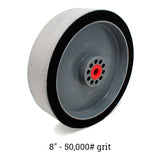 Diamond resin wheels
SKU: DSW6-060
CabKing diamond resin wheels are used for cabbing, smoothing, contour grinding and pre-polishing stone, glass, synthetic material and even some metals. They are a great economical option compared to the Nova and Flex wheels. These resin wheels come in 6″ and 8″ diameter sizes with a large variety of different grits to choose from.
Our diamond resin wheels offer an affordable option compared to other diamond resin wheels on the market. Using a proprietary technique, commercial grade diamonds are locked into a specially formulated resin-bonded belt that is mounted on a 1/4" thick soft sponge foam with plastic center core. The soft sponge foam backing absorbs pressure and provides a cushion so that the wheel conforms to your stone. There is no need to break these wheels in, as they are ready to go out of the box.
We offer a variety of different grits, ranging from 60# to 50,000#. The 6" resin wheels fit the CabKing 6" cabbing machine and the 8" resin wheels fit the CabKing 8" cabbing machine. You can also use them on other cabbing machine brands. All wheels have 1" arbor holes and come with bushings to accommodate 1/2″, 5/8″ and 3/4″ arbors. Wheels are color-coded for easy grit identification. Actual color and hub style may vary.
6" wheels are 1-1/2" wide and 8" wheels are 2" wide
Cabking is it!!!
Got the resin wheels and am very pleased again! Great service!!!! Highly recommend Cabking for ALL your cabbing needs or wants.
The best!
Awesome and goes above and beyond.
First time wheel replacement
I have had my 8 inch CabKing for while and I finally needed to break down and get a new wheel. It came as advertised and I am up and running again. I work on larger fist size stones for gifts for friends and family. The soft diamond wheels are great and forgiving to newbie like myself. I am very happy with my CabKing and would recommend this brand to anyone.