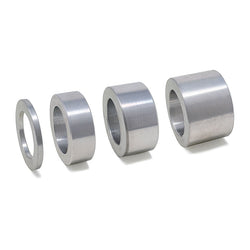 CabKing wheel spacers
SKU: CK-SP-1/8
Extra CabKing wheel spacers are available to give you the wheel spacing you desire on your CabKing cabbing machine.
These aluminum CabKing wheel spacers can be purchased in addition to the standard ones that come with your CabKing cabbing machine. They are used in-between the wheels to give you the wheel spacing you desire. They are compatible on both the CabKing 6" cabbing machine and CabKing 8" cabbing machine.
Spacers measure 1-1/2" outer diameter X 1" inner diameter and are available in 1/8", 1/2", 3/4" and 1" sizes.
Quality Product
Product was top quality as expected.
Customer service, questions answered.
Extremely helpful in helping figure out spacers I needed to reconfigure my set up and fast shipping after my order was placed.
Gave me the combinations for perfect wheel placements
I had six wheels I need to secure to my HP CB8 machine. The spacers provided by HP did not give me the combinations I needed. So I tried using PVC pipe cut and sanded. The PVC flexed enough to cause vibration. Now with the CabKing spacers, all six wheels are spinning evenly and without vibrations.