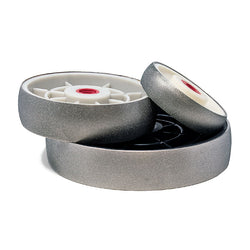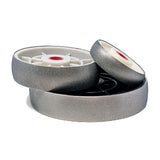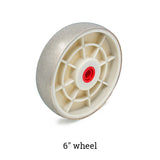 Diamond radius wheels
SKU: GWC4-100
CabKing diamond radius wheels are used for carving glass and stone. They are also well-suited for punting glass. Their rounded, convex design allows high visibility grinding at the point of contact. These wheels are appropriate for making gentle curves often needed in channel work, intarsia, and stained glass. Wheels come in 4″, 6″ and 8″ diameter sizes in a variety of different grits.
Our diamond radius wheels are nickel electroplated using the highest quality diamonds available, increasing their longevity and providing you clean, fast cuts. These wheels have a rounded, convex design, making them suitable for glass punting and creating gentle curves in channel work, intarsia and stained glass. All wheels are made with composite plastic hubs to reduce weight on machine bearings without compromising performance.
Wheels are available in three different diameters (4", 6", and 8"), and four different grits (100#, 180#, 360# and 600#). Use these diamond radius wheels on our CabKing cabbing machines or any other standard grinding unit. All wheels have 1" arbor holes and come with bushings to accommodate 1/2", 5/8" and 3/4" arbors.
Wheels are 1-1/2″ wide
Did you know that you can use the 4" diameter size radius wheels on your CabKing machine? In fact, a lot of our glass artists prefer this smaller size wheel!
Prop 65 warning for California residents